The growth of P2P business platform has been fueled by the internet and mobile technologies, and rapid advances in analytics, artificial intelligence (AI) and Big Data together with changing consumer preferences and consumption patterns. The P2P business platform models in general, and the sharing economy in particular, have produced disintermediated industries. Often, sharing economy business models facilitate people to transact directly with one another by connecting individuals in unprecedented ways.
The P2P business platform emerged as a viable alternative to fulfilling a range of customer needs, including transportation, accommodation, meals, and even investments and personal loans. They include Airbnb, HomeAway, XiaoZhu and onefinestay that are embraced bytravelers ranging from budget-conscious students and families to luxury consumers andeven business travelers. Uber, Lyft, Didi, BlaBlacCar, Grab and Ola are fast growingride-sharing platforms that have disrupted often sleepy, sloppy and expensive taximarkets around the world. EatWith and MealSharing delight foodies with the opportunity for experiencing delicious homemade food with local hosts. RentMyWardrobe and DesignerShare facilitate sharing your wardrobe with fashion enthusiasts near you. These services were previously provided primarily by established firms in traditional industries such as hotels, taxi companies, restaurants and wardrobe rental businesses, which we refer to as pipeline businesses. Other platform services created completely new markets, such as BorrowMyDoggy which connects dog lovers who share the care for their canines. Evidence is gathering that the sharing economy and the P2P business platform models are significantly changing ecosystems, markets and consumption patterns.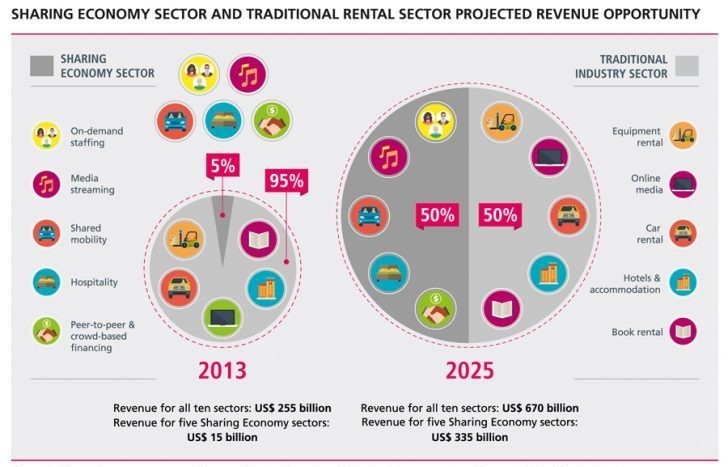 The sharing economy has been growing rapidly, leading many people to consider starting their own P2P online marketplace.
At Marketplace solutions, we created P2P "white-label" online platforms are designed to make it easy for anyone create their own P2P marketplace to share any commodity or service imaginable.